Use standard formats to provide examples for these conceptual models.
Subtask Description:
Use standard formats to provide examples for these conceptual models.
Action points of the implementation:
Of currently available formats, C-map Tools has been widely used for conceptual modeling, and seems to offer a good compromise between flexibility and specificity.
Formalize the model diagrams using the selected tools; where appropriate, make use of C-map's facility for displaying different levels in a hierarchy of subsystems.
Area:
Firth of Clyde, Loch Fyne, Scotland.
Policy Issue:
Implications of increased leisure and tourist use of the Firth of Clyde.
Human Activities:
Tourism, aquaculture, fisheries, maritime transport.
General Information:
As the Scottish Government aims to keep pace with global tourism trends and achieve 50% revenue growth, with social, economic and environmental stability, a study was made to examine the potential for future development of the sailing industry in the Firth of Clyde. The study suggested that the Clyde estuary could double its berthing capacity for recreational boating by 2015, but this created several stakeholder concerns relatively to the impacts of increased leisure boating to other resource users, particularly mussel aquaculture and navigation, especially in relation to competition for space and water quality.
Example of Implementation: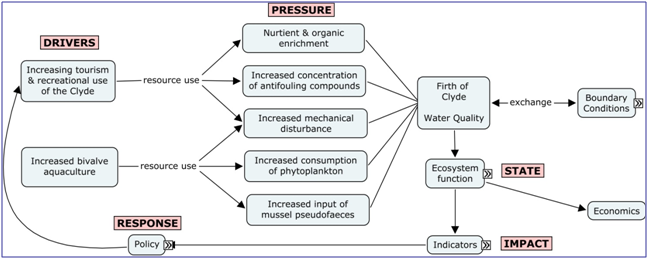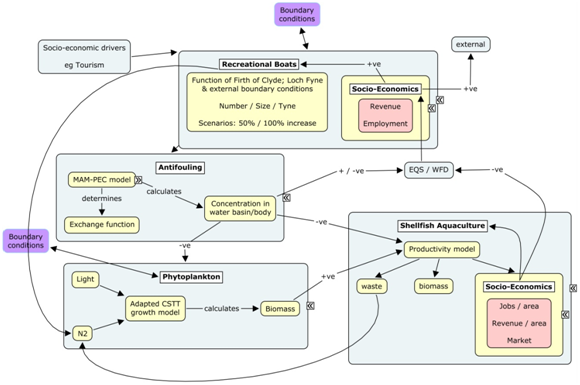 Comments:
You can find more information about the Cmap tools here.
Contact:
Callum Whyte, C.Whyte@napier.ac.uk