Prepare the ESE Models for Coupling
Subtask Description:
Integrate any links to other models or products of analyses
Action points of the implementation:
The model developed may require external data from sources such as third part models; these may include inputs such as economic and meteorological models. These external sources of information should be attached to the model, either directly, so that as the third party model is run, its outputs feed into the model, or as a soft connection whereby the third party model is run separately and the output data are fed into the model as a data set.
Result: component models with external sources of data included
Area:
Venice Lagoon, Italy
Policy Issue:
Sustainable management of the clam Ruditapes philippinarum.
Human Activities:
Industrial and urban activities, maritime transport, tourism, agriculture, clam fishing.
General Information:
One of the most important economic activities in the lagoon is fishing for clams, which accounts for 60% of national production. The sustainability of the sector is currently uncertain: over-fishing, 'fishing down the food-web', sediment re-suspension, damage to benthos and habitat destruction are some of the recurrent problems. These days the fishery activity is allowed only within restricted areas of the lagoon, the management of which is given to fishermen cooperatives in order to preserve their productivity by encouraging the fishermen to take care of the water basins assigned to them. However, there are social problems related to the competition for the seed from natural nurseries, and the competition for the more productive water basins. The main stakeholder concerns are connected to social conflicts, the profitability risks, and the quality of the product and the environmental status of the system.
Example of Implementation: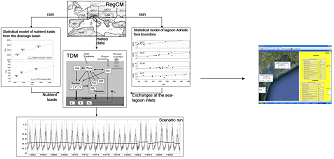 Click to enlarge
Venice lagoon downscaling scheme . Layout of the downscaling approach. The scheme depicts relationships among the atmospheric model RegCM (a, the upper panel shows the domain;), statistical models (b and c, left and right boxes) and the biogeochemical model TDM (d, the central panel illustrates main biogeochemical processes considered). The lower plot gives an example of the multi-decadal output (e, spatial average and dispersion of concentrations of chlorophyll), which are used to force the ESE extend based 0D model (f, bottom panel). The box in the upper map indicates the area of interest. (Solidoro et al. 2010, Melaku Canu et al. 2010)
Comments:
The ESE model for the Venice lagoon receives input from a 3D biogeochemical model (TDM) forced by a combination of conditions derived from the regCM meteorological model and from two statistical models that describe river inputs and exchanges with the sea.
Contact: Donata Melaku Canu, dcanu@inogs.it